Main Content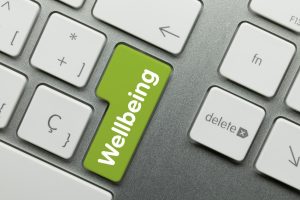 Please contact Thrive@nullwfu.edu or (336) 758-4359 if you have any questions about the WellSpaces program!
Our journey of wellbeing is influenced by the spaces in which we live, work, and play.
As a partnership between the Office of Wellbeing and Department of Environmental Health & Safety, the WellSpaces program supports offices in creating and sustaining a culture that promotes personal and collective wellbeing through meaningful policy and practice.
Is your office a WellSpace?
Employees spend over half of their waking hours in the workplace.  Why not spend that time with others who are just as committed to their wellbeing as you are?  Through shared priorities and engagement in wellbeing practices, entire offices can improve morale, camaraderie, productivity, and achieve individual and group goals.
We are all connected.  When I Thrive, you Thrive, and we Thrive.
As a WellSpace, each office commits to:
Designating an office Wellbeing Ambassador
Participating in at least 1 wellbeing activity as an office each month
Manager training on Wellbeing and Workplace Performance (offered several times throughout the academic year)
Adopting 3 office level policies or practices that promote employee wellbeing (E.g. incorporating a meditation moment as part of regular staff meeting, walking meetings, group lunch, etc.)
Participating in quarterly discussion sessions, represented by Wellbeing Ambassador
Sharing wellbeing activities on a monthly basis
Each office also receives institutional recognition for their commitment and annual progress.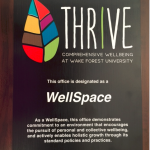 Want to lead the way to your office becoming a WellSpace?
The Wellbeing Ambassador are employees within offices that have joined the WellSpaces program, who want an integral role in campus wellbeing and have a passion for constructing a culture of  health and wellbeing in their office. Wellbeing Ambassadors help their WellSpace meet the program's requirements.
Wellbeing Ambassador Responsibilities
Serve as a proponent for activities that promote wellbeing in the workplace, both at the office level and for individual staff members
Share strategies for wellbeing in the workplace
Engage office leadership in wellbeing prioritization and establishing wellbeing office practices
Serve as a source of information regarding THRIVE and other wellbeing opportunities on campus
Facilitate office program participation
Share wellbeing activities to the Office of Wellbeing on a monthly basis
Attend quarterly gatherings with Ambassadors from other offices
Examples of policies or practices that can boost office wellbeing:
Make meetings that are 30 minutes or less "walking meetings"
Form an office book group that meets once a month
Close the office for a "no work/no meeting" hour to encourage recreation
Host an office lunch and rotate outdoor locations around campus each month
Write thank you notes to co-workers or hold other staff recognition activities to demonstrate gratitude for your team, "I really appreciate how you…"
Host small gatherings to share "new and goods", or "snack appreciation" over a cup of coffee/tea to promote office camaraderie
Begin meetings with statements of gratitude
Incentivize use of PTO
Limit times when emails will be sent (e.g. not after after 6pm)
Arrange for staff to occasionally work from other locations on campus (e.g. tables on the quad, Starbucks, Green Room in Reynolda Hall, Reynolda porch, etc.) – a change in environment can change perspective and boost creativity
Budget for ergonomic adjustments (e.g. standing desks, new supportive chairs, etc.) on a yearly basis
Provide each employee with a reusable water bottle to cut back on waste and encourage hydration
Participating Offices:
Accounts Payable
Athletic Development (Deacon Club)
Campus Life Finance & Operations
Campus Recreation
Center for Global Programs and Studies
Department of Environmental Health and Safety
Department of Theatre and Dance
F&CS Landscape
Finance and Administrative Operations
Financial Aid Office
Information Systems
Learning Assistance Center and Disability Services
Market Readiness and Employment Center
Office of Personal and Career Development (OPCD)
Office of the Provost
Office of Student Engagement
Office of the Chaplain
Office of the Dean of Students
Office of the University Registrar
Office of Wellbeing
Procurement Services
School of Business: Student Engagement Suite
Student Financial Service
Student Health Service
University Advancement
University Counseling Center
University Police Department
Wake Downtown
Wellbeing Assessment
Women's Center
Z. Smith Reynolds Library