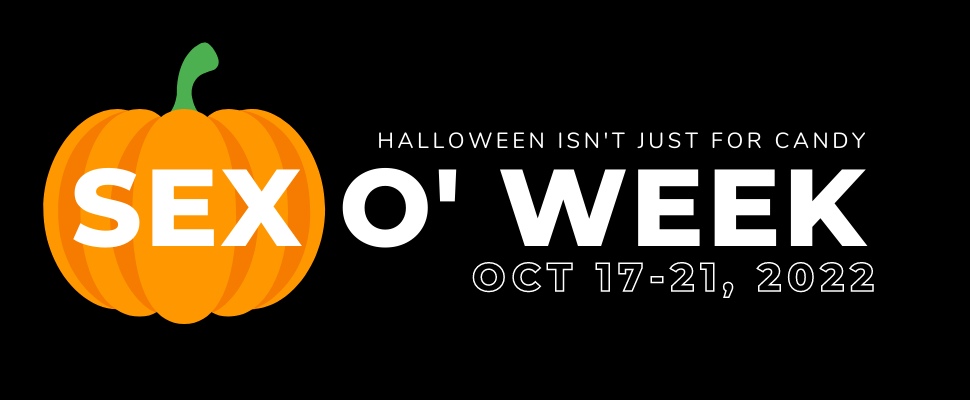 Sex Week is back!
This week-long event was created to encourage students to have conversations about safe sex and sexual health education in a fun, engaging way. Specifically, we hope to foster a culture on campus where it's normal to talk about sex and encourages students to both practice consent and get regular testing for Sexually Transmitted Infections.
---
Sex Week Events
Monday, October 17
Sex Trivia – "Be the First to Finish"
Details: Shorty's from 7 – 8 PM
Sex Trivia Round 1 Sign Up (7-7:30 PM)
Sex Trivia Round 2 Sign Up (7:30-8 PM)
Think you're the SEXpert? Bring your friends and knowledge to Shorty's this Monday night to be challenged. Start your Sex Week off strong with this fun, sexy trivia. Snacks, boxers with the Safer Sex Express logo, condoms, t-shirts, and more will be given to our greatest SEXperts. Round 1 is at 7PM and round 2 is at 7:30PM.
---
Tuesday, October 18
Learn the Tricks to Treat Yourself
Details Pugh Auditorium from 7:30-8:30PM
Sex Toys 101! Join us for an inclusive, funny, and informative conversation where you'll learn how to use over 10 different sex toys. There will be free sex toys, donuts and candy! You don't want to miss this fantastic start to Sex Week 2022. Sign-up now before spots get taken!
---
Wednesday, October 19
Sex in the Dark
Details Pugh Auditorium from 7-8PM
Stay anonymous in this lights-off Q&A event, while a pair of Sexperts answer your deepest, darkest questions. No question too simple — or too outrageous. This is going to be interesting! FREE glow bracelets or necklaces for every attendee!
---
Thursday, October 20
Be a Smart Cookie: How do you want to experience pleasure?
Details Shorty's 6-7 PM
On this dark and spooky October night, stop by Shorty's to decorate some Halloween cookies! We will provide you with tons of toppings to choose from and Halloween themed cookies. While you're decorating cookies, you'll be able to reflect on how you want to achieve pleasure in your life. Whether you have or want a partner or not and whether or not you're having sex. Everyone deserves pleasure! Join us to learn more about yourself while eating and decorating delicious cookies!
---
Friday, October 21
Sex on Wheels – Safer Sex Express Golf Cart
Details golf cart around campus from 12-1PM
Forget your broom? Ride the Safer Sex Express! Catch us driving around campus to get free condoms, candy, stickers, and MORE! End Sex Week 2022 on a high note.