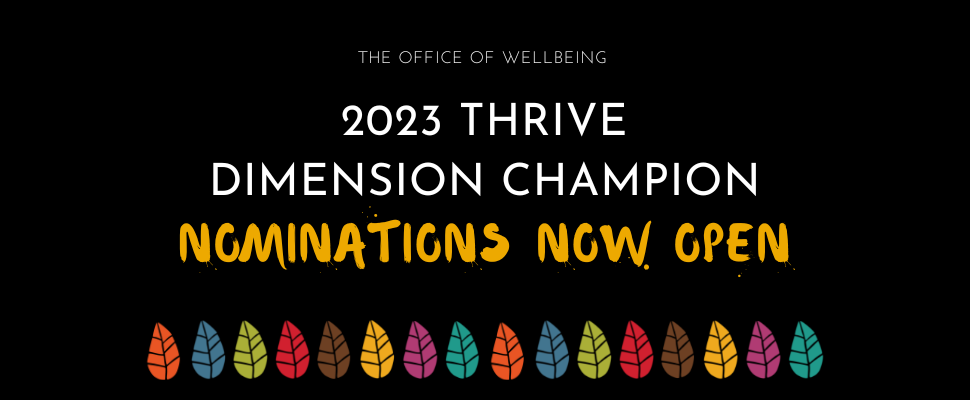 Nominate a Dimension Champion today! Nominate here.
Nominees within each dimension elevate our community through example and, often, direct guidance – which gives us real-life examples to strive toward and learn. Nominate a faculty or staff member today who demonstrates leadership and commitment to individual or campus-wide wellbeing across one of the eight dimensions of wellbeing: emotional, environmental, financial, intellectual, occupational, physical, social, and spiritual.

Nominations will close Monday, April 3, at 5:00 pm.
Save the date:
A Celebration of Past and Present Nominees
Thursday, April 13
3:30 PM – 4:45 PM
Green Room
Vice President for Campus Life Shea Kidd Brown, Assistant Vice President for Health and Wellbeing Warrenetta C. Mann, and Director Office of Wellbeing Ashleigh Hala will recognize THRIVE Nominees and Champions.
Wellbeing Dimensions:
SOCIAL
FINANCIAL
INTELLECTUAL
OCCUPATIONAL
PHYSICAL
SPIRITUAL
ENVIRONMENTAL
EMOTIONAL
---